ACSD will be E-Learning tomorrow. Students that were absent today will be given ample opportunity to complete their assignments upon their return. Intercession assignments will be available next week.

October Intersession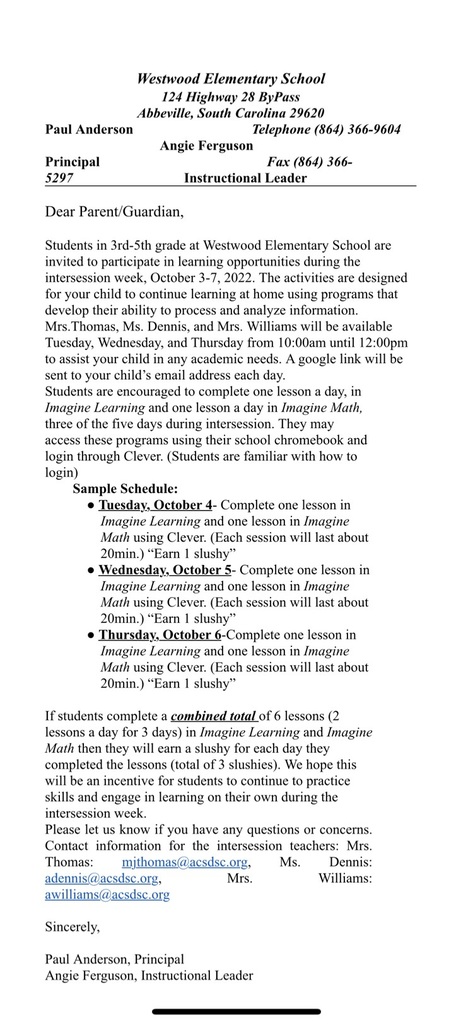 Good Afternoon! Westwood Elementary School will be conducting its state mandated active shooter drill tomorrow. Please be aware that this is only a drill.

Attention Parents, Due to our new safety protocols, including a new front entrance (push button call system), we ask that you accompany your child into the office if they are a late arrival. This pertains to car riders after 7:50 am. Thank you for your cooperation.

July 19th - On-site Registration from 8:30 until 2:30 July 27th - Meet the Teacher & Supply Drop off from 5:00 until 7:00 August 2nd - First Day of School 7:50-2:20

Westwood Summer Office Hours Monday-Thursday 8:00- 3:30 (beginning June 6) Closed June 20-22 and July 11-14 Office staff can be reached through the website below. Click on "Send Message" under appropriate staff photo.
https://wwes.acsdsc.org/o/westwood-elementary/staff

REPORT CARDS....will be sent home with your child tomorrow OR available for pickup next week Monday through Thursday from 8:00 - 3:30 in the office. REMEMBER....Thursday's dismissal time is 10:30 Have a Great Summer!!

Westwood Awards Day, June 1st (in the gym) 3rd grade – 8:15 4th grade – 9:30 5th grade – 10:45 Teachers and staff will park on the side or the rear of the school to make room for parents/visitors. Parents who choose to take their children after their program, please do so by signing them out through the office. Thank you!

Due to impending weather, we will offer our students an opportunity to sign yearbooks tomorrow (Thursday). 8:15-9:00 - 3rd grade 9:00-9;45-4th grade 9:45-10:30-5th grade The related arts teachers will supervise students during this time in the cafeteria. Please remind your child to bring his/her yearbook tomorrow. If they don't have a yearbook they may bring the blue piece of paper provided by Dr. Brown. We will follow the bouncy house schedule in the gym as provided by Coach Collins. Related arts teachers will supervise during scheduled bouncy house time. Lunch will be on a normal schedule.

5th Grade Field Day—has been moved to 12-2 today instead of 8:30 -10:30 Overnight storms left the fields in "unplayable" condition. We will keep you updated.

Just a quick reminder about Field Day. School age siblings are not allowed. 4th grade is today at 12:00 and 5th at 8:30 tomorrow.

Parents, We will make every effort to have 3rd and 4th grade Field Days as scheduled with a possible later start time of 9:00 tomorrow. Please send a towel/blanket for your child to sit on outside during their time. Thank you!

Due to impending thunderstorm activity and the unavailability of equipment (slides, etc) that can operate in the rain…we are having to postpone Water Day until next Tuesday, May 31st. We apologize for any inconvenience.

Parents don't forget tomorrow is water day for our 4th nine weeks green zone party. If your child qualifies to attend please be sure to bring a change of clothes, towel and a bag to put wet clothes in. Thank you!

Please remember Westwood students will take the math portion of the SC Ready tomorrow and the 4th grade students will take the science portion on Wednesday. We encourage students to arrive to school early, get plenty of rest, and eat a good breakfast. The "Perfect Attendance" day for students who are present everyday during testing will be May 26th. Let's knock this test out of the park!

Dear Parents, We sent home important information with your child on May 4th regarding the SCDE School Survey. If you don't have this information, or the QR code that was provided, please contact the school. Thank you, Paul Anderson

Good Afternoon, state testing will begin tomorrow. Please make sure your child arrives to school early, gets plenty of rest, and eats a good breakfast. Testing dates are: tomorrow, May 10th, Wednesday, May 11th, Tuesday, May 17th, and only 4th grade students will test on Wednesday, May 18th. Students who have "Perfect Attendance" for all of testing will be invited to an outdoor fun day. Together we can knock testing out of the park!

Due to inclement weather Westwood is dismissing today at 11:30. Lunch will be served. There will be no YMCA afterschool program today at Westwood.

Due to impending weather Westwood Elementary School will dismiss at 11:30 today. Lunch will be served.